Sadly there are only approximately 480 gorillas in the Virunga volcano area of the Democratic Republic of Congo, with less than 800 worldwide.
Whilst authorities have sought to crack down on the illegal poaching of these gorgeous creatures, it appears that they are fighting an uphill battle. In its fourth raid since April, an anti-poaching raid uncovered this little guy hidden in a rucksack!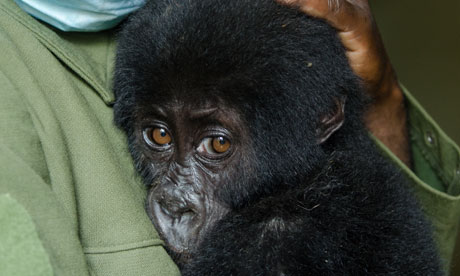 Photo courtesy of Guardian post UK
Four babies have been recovered this year alone. Unfortunately these raids only scratch the surface of this wildlife trading issue.
Ape Alliance
thinks that the Middle East is a large source of demand with wealthy animal collectors and the local tradition of soliciting favours with large, exotic gifts. Poachers can claim in excess of $40,000USD ($26,000UK) for each gorilla kidnapped from its parents and natural habitat.
It goes without saying that such an incentive may be seen as attractive to a poor Congo local.
You can help by:
talk to your friends
share this blog
contact Ape Alliance (www.4apes.com) to register your support